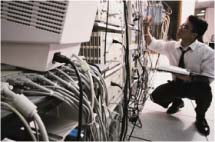 CARIPAC has been actively involving in providing network solutions for more than a decade and has developed into a leading Network Solution Provider in Hong Kong. With a strong team of expertise, we are capable to provide advanced and versatile network solutions as well as complete pre-sales and after-sales support to our customers. Throughout the years, we have been successfully delivering various network solutions with different focuses as follows:

Network Infrastructure
Access Solutions for Telecom Service Providers

To assist the Telecom service providers to deliver their services to the end-users in the most cost effective and efficient way, we have provided with them various kinds of access solutions utilizing the latest technologies and the best-of-breed products.


Optical Transceivers
RedChecker Optical Transceivers

RedChecker provides many different kinds of pluggable optical transceivers, including SFP, SFP+ and XFP supporting different bit rates ranging from 155M to 10G. Due to the high reliability and cost effectiveness, RedChecker's products are widely used in IT and Telecom fields. All the RedChecker's transceivers are MSA compliant and can be loaded with custom EEPROM codes in order to be compatible with routers or switches of major network equipment vendors.
Please refer to the most popular RedChecker pluggable transceiver products below:


SFP, 155M, Multimode 850nm 550m, LC connector with DDM support
SFP, 155M, Single mode 1310nm 20km, LC connector with DDM support
SFP, 155M, Single mode 1550nm 80km or 120km, LC connector with DDM support
SFP, 155M, Single mode BiDi 20km or 40km, LC connector with DDM support
SFP, 155M, Single mode CWDM 80km or 120km, LC connector with DDM support
SFP, 1.25G, Multimode 850nm 550m, LC connector with DDM support
SFP, 1.25G, Single mode 1310nm 20km, LC connector with DDM support
SFP, 1.25G, Single mode 1550nm 80km or 120km, LC connector with DDM support
SFP, 1.25G, Single mode BiDi 20km or 40km, LC connector with DDM support
SFP, 1.25G, Single mode CWDM 80km or 120km, LC connector with DDM support
SFP+, 10G, Multimode 850nm 300m, LC connector with DDM support
SFP+, 10G, Single mode 1310nm 10km, LC connector with DDM support
SFP+, 10G, Single mode 1550nm 40km, LC connector with DDM support
SFP+, 10G, Single mode CWDM 40km, LC connector with DDM support
XFP, 10G, Multimode 850nm 300m, LC connector with DDM support
XFP, 10G, Single mode 1310nm 10km, LC connector with DDM support
XFP, 10G, Single mode 1550nm 40km, LC connector with DDM support
XFP, 10G, Single mode 1550nm 80km, LC connector with DDM support




| Home| Corporate Information| Solutions |
| Customer Service & Technical Support | Career Opportunity | Contact Us| Enquiry |